I2M Chrome Pro Dash Package (Dash & Plug & Play Adaptor)
Regular price
$2,278.00 USD

+ VAT
Couldn't load pickup availability
Contact us before purchasing, with regards to delivery times.
Please specify your bike in the box.

The new evolution in the Chrome family
The Chrome Plus has gained (on bikes with a Can Bus) two new 100Hz analogue channels, thus increasing to 10 the available 100Hz channels that sums to the RPM, front and rear speed, GPS speed and acceleration, leaning angle and 10 10Hz customised channels depending on bike model. Now also the GPS altitude channel is available. Thanks to the power of the Chrome Plus it is now possible to implement the DDS (Danas Dynamic Settings) that enables to change some parameters like map or Traction control level corner by corner on every track!
Pairing DANAS software with data from lambda sensor with stoichiometric functions one can create his own map directly on track.
The Chrome Plus dashboard is the new evolution in the Chrome family. In this new version all the features have been enhanced, starting from its famous shape and its true colour display 800x400, all the inside electronic has been completely re engineered with a new 1GHz processor and a 1GB RAM and so much as 16GB internal memory.
Now you can have together the classic monochrome backgrounds, and new backgrounds such as carbon look and analogue tachometer.It gained new lateral RGB alarms and all the integrated electronics for the Bosch LSU 4.9 lambda sensor. Pairing its data with Danas stoichiometric functions it is possible to create your own fuel map while on track.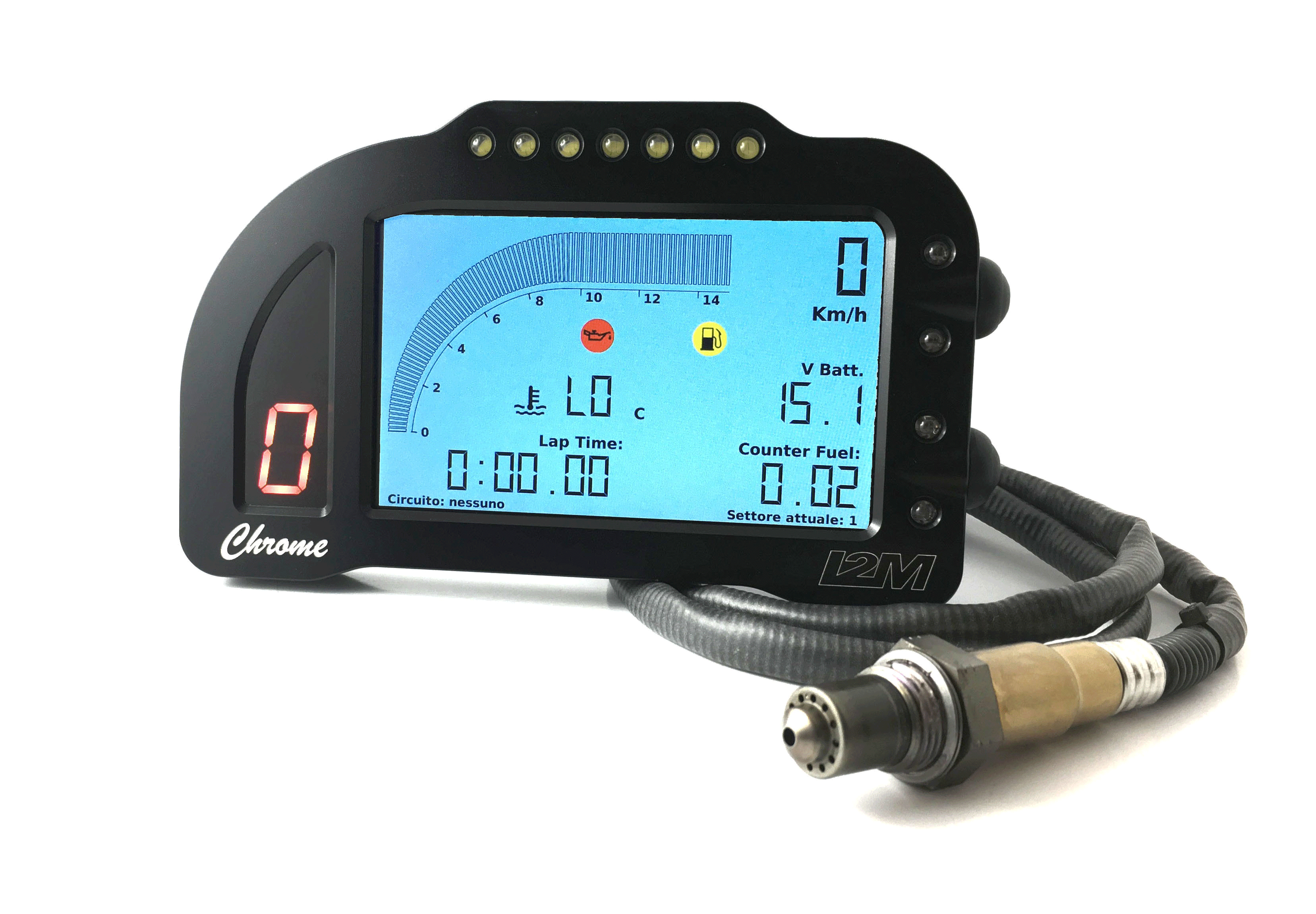 Camera Input
Chrome Plus has anew video input where you can plug a Logitech cam C270, while the audio recording is provided by an internal mic , thus protected from the wind , so to have an optimal bike engine sound rendering.
A CNC aluminium case is available to substitute the original Logitech C270 plastic case. This makes the webcam water resistant and has a Go-Pro compatible connection. It also has a screw binder connector to plug it directly to Chrome.
If the 720p resolution is not enough, the new Chrome Plus can drive an external Go-Pro cam via WiFi, it can turn it on and off and start recording in sync with data acquisition. Thus you can create a synchronised video with acquired data.
Danas Video
Thanks to Chrome Plus it is now easy to create video with data footage and use them to analyse performances by Danas new video features. Chrome can automatically connect to an external network, when in the box. One can download data easily and rapidly directly from a PC.
Protective Cover
A protective carbon cover is available for the Chrome Lite and Chrome Plus. It protects the dashboard from scratches and gravel (in case of crashes). The internal rubber allows you to fix it in an easy way.
800x480 Graphic Colour Display
High visibility even in direct sunlight
1GHz Processor, 1GB RAM and 16 GB internal memory
CNC Aluminium case
Fully customisable  TRACK/STREED mode
10Hz Trajectory and GPS speed acquisition, 66 parallel channels
Chronograph whit 20 pre-loaded tracks, 500 laps per track
Track Auto identification, 3 splits
Best Lap, Ideal Lap, Best historical and daily values
20 high brightness fully customisable alarms.
8 10-bits analogue inputs, 2 10-bits analogue Can-bus inputs
2 distinct sped inputs
1 RPM input
Water, fuel, oil inputs with dedicated alarms
Data download via USB key or via WiFi
CAN BUS ready
16GB internal memory
Integrated Lambda sensor controller
Auto generated stoichiometric ratios table
Video input
Driver for external Go-Pro via WiFi
DDS (Danas Dynamic Settings)
APRILIA: RSV4 APRC RSV4 APRC ABS RSV4 RF 15-16 RSV4 17-18
MV: F3 675
DUCATI: 1198 / 1198S 899/1199 1299
BMW: S1000RR 09-14 S1000RR HP4 S1000RR HL (NOT HP4 BUT WITH HP4 REMAPPED CONTROL UNIT) S1000RR 15-18 (WITH HP CONTROL UNIT)
HONDA: CBR 600RR 07-17 CBR 1000RR 08-11 CBR 1000RR SP 2017 (NO HRC KIT)
SUZUKI: GSXR 1000 07-08 GSXR 1000 09-10 GSXR 1000 17-19
YAMAHA: R1 04-08 R1 15-20 R6 06-16 R6 17-20 R3 17-19 R6
MECTRONIK
KAWASAKI: ZX6R 07-16 ZX10R 08-10 ZX10R 11-15 ZX10R ECU RACING ZX10R 16-19 NINJA 400
Optional Extras
Ducati Panigale CNC bracket
Yamaha R12015 CNC bracket
Kawasaki ZX10R 11-19 CNC bracket
External buttons connector
Sensors
Inductive Speed Sensor £65.00
IP 66 150mm Linear Poentiometer £280.00
IP 66 75mm Linear Poentiometer £280.00
Brake Pressure Sensor £215.00
Infrared Temperature Sensor (Front) £130.00
Infrared Temperature Sensor (Rear) £130.00
Lambda Sensor £141.00
Lambda Sensor Controller £162.00
Lower Potentiometer Support £42.00
Potentiometer Collar [52mm] £35.99
Potentiometer Collar [54-55mm] £35.99
Potentiometer Collar [56-58mm] £35.99
Protection
Carbon Cover £204.00
Carbon Protection for 150mm Potentiometer £33.00
Bonamici Complete Dash Cover £162.00
Connectivity
Bluetooth Antenna £28.00
Wi-Fi Antenna £28.00
GPS 10Hz 66ch (Spare) £65.00
C270 Camera with Aluminium Case £226.00
USB Hub £33.00
Wiring
Main Wiring (Spare) £65.00
Plug & Play Sensors Wiring £65.00
Molex Connector for Sensor (Spare) £6.00
External Buttons Connector £6.40
Switches
RRPS 2 Button Switch for Handlebar Mount £174.00
I2M 7 Button Left Hand Switch £240.00
TPMS
Complete TPMS System [Standard] £277.00
Complete TPMS System [Display] £318.00
Complete TPMS System [TPMS/CAN] £411.00
433 MHz USB receiver £154.00
433 MHz USB receiver with display £195.00
433 MHz TPMS/CAN receiver £308.00
Pressure Sensor with Adaptor (valve not included) £77.00
Programming USB cable for TPMS/CAN £62.00