Honda CBR1000RR 2008-2016 Venturi System Performance Velocity Stacks - is currently on backorder. You may still purchase now though and we'll ship as soon as more become available.
Honda CBR1000RR 2009-2016 Venturi System Performance Velocity Stacks
Description:
Air funnel kit developed to increase performance  performing studies of fluid dynamics and dynamic testing on the dyno.
Increase power and torque at the mid and high rpm
The engine reaches its maximum speed in less time
Increased responsiveness of the engine during the reopening of thottle
Reduces the loss of engine power on approaching the rev limiter
Amazing intake sound
Package contents:
4 racing velocity stacks racing made by CNC machines
2 support brackets made of stainless steel laser cutting machines
Screw and spacers
Allen key
threadlocker
assembly instructions
Dynamometers results: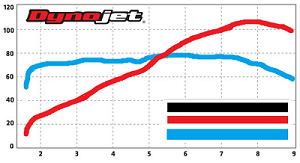 Dyno Chart Pictures:
Honda CBR1000 RR 2008, Arrow full exhaust system no db killer, stock filter and Dynojet PowerCommander
Blue line = Stock Stacks with optimised map
Red line = Venturi system stacks with optimised map
Tested by  Vanni Lorenzini from Team Lorenzini by Leoni
F.A.Q:
Should i modify my airbox for mount venturi velocity stacks?
Is the venturi kit fully compatible with stock airbox?
Should i tune the ecu after venturi kit installation ?
Can i install the venturi stacks in a full stock bike?
If install an full exhaust system and i haven't make ecu tuning ,can i mount the intake funnels?